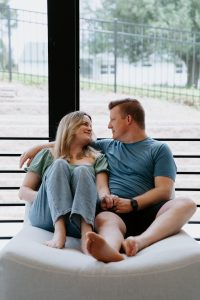 You met them first on our fun episode of HGTV's House Hunters, and now you can get a behind the scenes peek at Apex residents, Kevin and Rachel! 
Originally from the DC area, Kevin moved to the Triangle for work in 2013 after his family did the same in 2008. On the other hand, Rachel was born and raised in the Triangle – we know, true locals are rare these days!
He's a Virginia Tech graduate currently working as a Technology Account Executive for a commercial real estate firm, and she's a hometown NCSU alumni who works as Director of Product Management for a software company. 
Kevin and Rachel met in the elevator of a Cary apartment complex where they lived 5 doors down from each other, and they also happened to work at the same company. Though it wasn't a typical meet cute in the elevator, they ended up going on a date after a dog (yes, a dog!) set a neighbor's apartment on fire and they were messaging each other to see when they could get back into their apartments. It might not have been love at first sight,  but they fell for each other hard as evidenced by the fact that they bought their first home together in Apex in 2016, just 9 months after they began dating!


Kevin enjoys fly fishing and cooking, while Rachel loves crafting, graphic design, making greeting cards, t-shirts, etc., and shopping. Their passions blend when it comes to their shared love of travel! Their favorite rooms in the house go right along with their interests! Kevin says his favorite rooms are the primary bath, and especially the kitchen. He loves having an induction stove and a double oven in addition to all of the counter space and is excited to take on more difficult recipes and challenging meals. Rachel's favorite room is her office! Their interior designer, Kim Gilmore, color matched the trim and walls (SW Dried Thyme) to the sage-colored Room & Board Copenhagen file cabinets and it's a sage green on sage green paradise. Along with the art she's hung up, she says it's a calming space she loves spending time in.


They say the best amenities are the neighbors (gotta love that!) and the fact that the house is just a quick walk to Salem Street with food and retail galore. For date nights they enjoy Myra Cafe in Apex which they said has the best Thai food in town and a solid margarita! The Provincial in downtown Apex is their go-to and they said to tell you that "you have to get the Asian Spiced Chicken Wings". They also recently discovered Common Grounds coffee shop makes a top notch Matcha Latte.
As a Washington Commanders and VA Tech fan Kevin is under 5 hours to see either of his teams play. Rachel is just "rooting for Travis Kelce and the Chiefs until he breaks Taylor's heart. Go sports!" (Love the honesty, girl!) Kevin is also a huge hockey fan and loves is happy the Carolina Hurricanes are in the same division as the
Washington Capitals and can't wait for the season to restart. Rachel keeps it a little more hands on and enjoys taking tennis lessons right with their neighbors across the street.
While they are still working on decorating and adding finishing touches, they've already added landscaping, fencing, and some really cool home automation. They're currently enjoying decorating for their first Halloween in their new home and we absolutely love every new photo we see as Kevin and Rachel lovingly make it their own for many years to come.